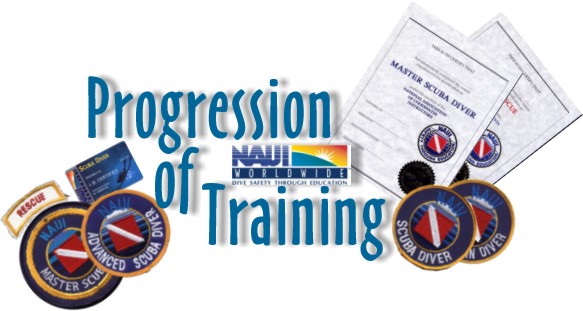 Diving is a sport like no other. Once you've tried it, once you've seen the world below, you'll never be the same again.
Maybe you've just started out, exploring the possibilities; or perhaps you're an experienced diver looking to expand your diving experience.
Whatever the case, we are here to enhance your diving adventures with a range of educational, support and certification offerings.
NOTE: Some courses have prerequisites. Please check with your Instructor to determine what those are for a specific course.
NAUI Education, NAUI Safety.
There is only one reason why we've dedicated over 45 years to developing the finest recreational diving instructors in the world and supporting them with the most stringent recreational diving safety standards... that reason is you.
Scuba diving is an adventure sport, and as such, it has inherent risks. NAUI understands this. We also understand that the only way to minimize risk is to maximize education. There are many scuba certification programs available today, but there is only one that can be called a scuba education program. And, education is the true NAUI difference.
To earn the coveted NAUI Instructor rating our Instructor candidates undergo a grueling leadership training program requiring extensive diving knowledge and superior water skills. At every step they are challenged to make independent and correct decisions and value judgments regarding the level of risk inherent in all types of diving situations.
Those who successfully complete this exceptional program become NAUI Instructors and are granted the freedom to adapt their teaching to meet the individual and regional needs of their students... individuals like you.
OUR PROMISE TO YOU
---
The combination of exceptional leadership, sound educational materials, and true concern for the individual, has resulted in the most respected safety record in the recreational diving community. So, when you enroll in a NAUI diving program, you can be assured you're receiving the finest diving education available. Our instructors won't accept anything less... and neither should you.
---

In the list below you'll discover the many fine programs offered by NAUI. Click on the Course name for more information and some of the course prerequisites. For complete descriptions, prerequisites, course schedules and course fees, contact your local NAUI-sanctioned training facility.

THE NAUI PROGRESSION OF TRAINING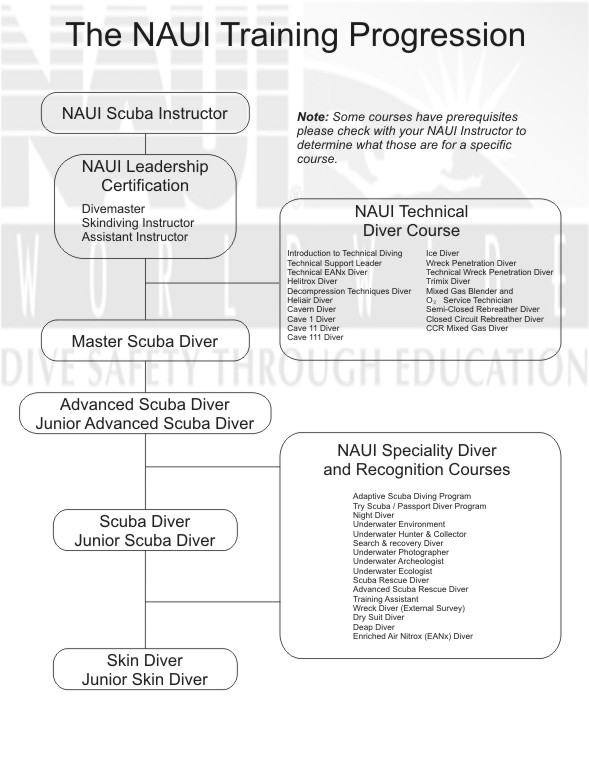 Download the NAUI Training Progression in PDF format here! (782kB)