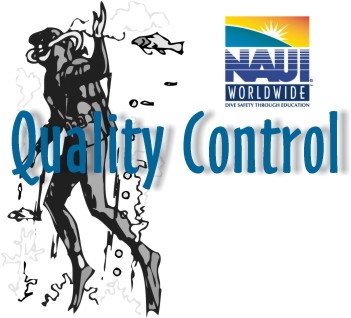 NAUI Worldwide's Ethics and Quality Control Department publishes recent quality assurance activities. This feature publishes the names of individuals whose membership has been suspended or revoked by NAUI Wordlwide.

NAUI Membership Code of Ethics
The following is an extract from the NAUI World Wide web site as relevant to the Southern African region:
"NAUI Members are defined as NAUI certified Instructors, Divemasters, Assistant Instructors and Skindiving Instructors".
Membership Revoked
Gary Whitecross (Suspended: 11/20/2001, Revoked: 5 April 2002)
#18945
Alexander McKirdy (Revoked: 15 October 1998)
#16567
Andre van Wyk (Revoked: 15 October 1998)
#17393
Laurence "Jerry" Scott (Suspended: 6/18/1998, Revoked: 15 Oct 1998)
#15945
Craig C. Wood (Revoked: 22 October 1998)
#13141
Charles Anthony Norris (1996)
#17693
Membership Suspended
Roger Dengler (29 April 1999)
#17189
Andreas Odendaal (10 August 1996)
#13102
Johannes Snyman (29 October 1998)
#11822
Ross Ellis (23 February 1998)
#20016
Graham Kolm (17 March 2004)
#34372
David Barry Strydom (6 June 2003)
#17630
Membership Reinstated
Ryan Roberts ( 15 January 2005)
#32602
Andre Pienaar (13 October 1999)
#15608
Membership Resigned
Anthony Smit (15 October 1998)
#13037
Mark Magee (22 February 2000)
#17186
Non-NAUI Members

"NAUI Members are defined as NAUI certified Instructors, Divemasters, Assistant Instructors and Skindiving Instructors".

Karel "Kallie" Viljoen (has not been a member of NAUI since 1996)
#16112
Jose Vieira (has not been a member of NAUI since 1996)
#11505
Nicole Prinsloo (has not now and never has been a member of NAUI)