Extract from March 1999 edition of "Re-Sources magazine for the Business of diving" published and circulated internationally by NAUI Worldwide.
NAUI has been active in South Africa since 1980, almost 20 years. Today there are about 1500 NAUI instructors in the country. In a recent survey conducted by Divestyle, the country's only dedicated diving magazine, NAUI-certified divers in South Africa were found to far exceed those of any other agency.
NAUI in Southern Africa today has it's own Service Center headed by a Director and Training Representative. But this was not always the case. For many years NAUI's organization in South Africa was very informal. Course Directors who came from outside the country did most of the Instructor training. Later South Africa had a Branch Manager who had responsibilities for promoting NAUI membership and developing leadership, but NAUI business and services still came out of Headquarters in California. When the time came for NAUI in South Africa to provide for its own needs, responsibility was placed in two separate offices. The burden fell upon Ricki Schick and Quinten Swanepoel, who had been NAUI's Branch Manager. Ricki, in Durban, was responsible for distribution of NAUI products; Quinten, in Estcourt, was charged with distribution of certification cards. Unfortunately, this divided base made NAUI's local functions cumbersome, and NAUI members often had to contact two centers to resolve a single problem.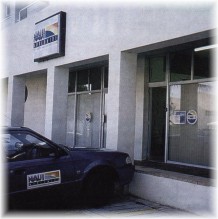 Changes began in 1995. In that year the Association began to seriously address the problems and to explore ways to consolidate it's activities and to place more responsibility within the country. Mike van Niekerk, a South African Attorney and NAUI Instructor, was appointed Director and Training Representative to overview the Association's legal, financial, and quality control interests in the area. But except for one attempt to set up a single distribution center, NAUI's business handling remained as before.
In 1998, it was decided to extend the Service Center concept into South Africa. NAUI President Jim Bram and Director of International Operations Randy Shaw went from NAUI Headquarters to South Africa to meet with with Mike, who agreed to enter into a partnership with NAUI Worldwide and establish a single, consolidated Service Center that would provide for all member needs in Southern Africa. NAUI Services Southern Africa opened in Gordons Bay, near Cape Town, in May 1998, and NAUI South Africa never looked back. Time has proved the decision to be a correct one. NAUI South Africa has shown a dramatic recovery and growth. The Service Center is able to maintain a two-day turn around time on products and services. Product order queries, questions about training, general advice, are all just a phone call away.
NAUI Services Southern Africa maintains a fully equipped classroom on premises and hosts Instructor Training Courses.
Under Mike's leadership, with a functional Service Center, NAUI has shown a dramatic increase in membership, including instructor crossovers from other agencies. NAUI certifications have also reached new heights. The Service Center's ability to support and promote NAUI is reflected in the numbers, and the community's support of the Service Center is shown in the many letters and e-mails received at NAUI Headquarters. NAUI is on the move again in South Africa.
Mike himself is a man of many hats. In addition to being a NAUI Course Director and Director of NAUI Services Southern Africa, he is still a practising Attorney and Conveyancer of the Supreme Courts of South Africa and Namibia and a past circle Chairman of the Cape Law Society; He is a yachtsman (Yacht Master Offshore and past Commodore of Gordons Bay and Lake Marina Yacht Clubs), a power boat skipper and a South African Tourist Guide. Of his in- and underwater activities, he says he came into the organized ranks of Scuba Diving late, although in the same breath he admits to being involved in commercial diving at the age of 16.
Recent Developments:
In 2004, in Las Vegas, Mike was presented with NAUI Worldwide's

" Outstanding Service Award" for the promotion of diving in South Africa.

In 2003 Mike was appointed as a subject matter expert to the Standards Generating Body of the South African Government's sector education and training authority for tourism guiding.

In 2005 Mike was elected to the NAUI Worldwide Board of Directors for a 4 year term (the first South African to be elected to this position).

In 2006 at The National Boat Show (Incorporating Dive 2006), Africa's premier boat show, held at Dome in Johannesburg, NAUI was the proud recipient of the "Outstanding Exhibitor Award" certificate. NAUI attends and exhibits at this Show every year and has done so since the Show's inception.

In 2009 Mike was re-elected to serve a further 4-year term on the NAUI Worldwide Board of Directors.

In 2010 Mike was elected Vice-Chairman of the NAUI Worldwide Board of Directors, the first non-American citizen to hold this position.